Hiya!
Welcome to Yarn Circus!
Cute & Cozy fiberart, for anyone to enjoy!Hi Friend! My name is Prescilla Ann & I am a 25 year old Filipina artist from Stockton, CA. I have been working with yarn for over 8 years & love to make things from my doodles and just things that bring me joy (such as food, kawaii things, etc).Being an artist is such an honor, and I am so grateful to be able to put out things I love & that others will find joy in too. Many of my creations are not only just for looks, but also many are made with many different textures (such as soft-touch yarns) that bring joy and calming to others.Please feel free to click through the tabs above to view my work. Thank you so much for visiting!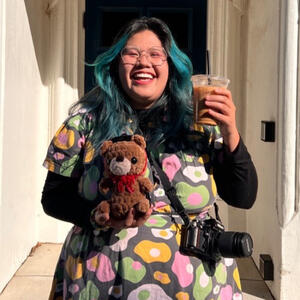 Fiber Art
Artwork
Vinyl Lettering
Vinyl Lettering for Goodstock Productions. Photos Courtesy of Andrea Careaga
Sometimes, we receive the honor to be featured on the news!
Click the links below to view our interviews.